ABOUT VTP MOTORSPORTS!
At VTP Motorsports, we're all about bringing families together for exhilarating adventures on wheels. With a foundation rooted in a passion for off-road excitement, we've curated a collection of ATVs, Dirt Bikes, and Scooters that guarantee endless fun for everyone. From the love of outdoor exploration to the thrill of off-road riding, VTP Motorsports was born to create unforgettable family moments. With years of experience in the industry, we've honed our expertise to ensure that every machine we offer delivers not only performance but also safety and reliability. Contact us today to kick-start your adventure with VTP Motorsports!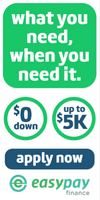 Save money:
Our 90-Day Early Finance Promotion! Conditions apply
No money needed:
Make the purchases you need today with $0 down!
Own it all, today:
Non-lease financing means you own your purchases 100% from the start!
Apply Now!
Location
VTP Motorsports Modesto
906 N. Carpenter Rd. Suite B Modesto, CA 95351
(209) 859-6142
Monday-Saturday 10am-5pm
Sunday- Closed